GX CS4 Portable PCP Air Compressor, Max 5800Psi/40Mpa, 12V Auto Stop PCP Air Rifle Paintball Air Compressor.
Go kalles this summer with this vintage navy and white striped v-neck t-shirt from the Nike. Perfect for pairing with denim and white kicks for a stylish kalles vibe.
Order in the next
[totalHours] hours %M minutes
to get it between and
Description
Only Available in USA NOW

350W Powerful Motor,Max 5800Psi/40Mpa, Water and Fans Cooling, 5 Hours Continous Work, 12V Auto Stop PCP Air Rifle Paintball Air Compressor
About this item

This CS4 PCP compressor has a new upgraded 350W motor , and adopts four-stage compression technology. It is very stable when working, and it is very quiet with only 70db. Maximum filling 5800Psi/40Mpa. At the same time, it is equipped with a double-pointer pressure gauge, and the two-level setting auto-stop pressure, which is more secure.

A water tank and a grease tank are designed on the top of the compressor. The excellent cooling can achieve 5 hours of continuous work and can fill a maximum 6.8L gas cylinder. Note: For the first use, it must be filled with 500ml of neutral distilled water ( can not contain impurities such as minerals )or antifreeze ( PH is about 7). Do not turn the grease knob until after 4-6 hours of use, then turn it one turn. Afterwards,if the speed has slowed down and twisted again. After the break-in period, there is no need to add grease.

15% Faster Filling Speed: Filling 0.5L tank from 3000Psi to 4500psi ,only needs 4-5 minutes. Filling 0.5L from 0-4500psi, only needs 14-16 minutes. Filling 6.8 liter bottle from 0-4500psi ,2 hours and 40 minutes

12V DC input, you can use car batte

ry or household outlet for power supply, equipped with 110V-12V converter. The machine is equipped with a built-in oil-water separator which never needs to be replaced, so you don't need to buy other external oil-water separators.

Please read user manual carefully before turning on compressor. All GX pump come with 12 months warranty service and life time technology support. Product size: 11.8*6.1*12.4 inch , weight: 29lb. ATTENTION: when filling is complete, please release the bottle valve first (when filling bottle) and then open compressor's bleed valve to release line pressure . All pressure must be released from compressor before starting.
 Video of the review by GX CS4 from @Air Compressor and Airgun reviews
Product Description
Package include:

pcp air compressor *1, Instruction manual *1, Fitting kit *1, 110v-12V Power Supply*1

Delivery

Delivery in the US within 3-6 days.

Warranty

12 Month

Specifications:

Power: 350W

Voltage: 110V/220V AC voltage or 12V car battery

Motor speed: 2700r/min

Air output: 11 l/min

Weight: 33lbs

Noise level: 70 decibels

Cooling system: water cooling system + fan cooling

Automatic stop

Moisture filter: built-in

Maximum working pressure: 400bars/5800psi

Continuous working time: 4 to 5 hours

Maximum cylinder capacity: 6.8L
Note:

1,For the first use, it must be filled with 500ml of pure water or antifreeze before turning on power.
2 ,Do not turn the grease knob until after 4-6 hours of use, then turn it one turn. otherwise will cause bad performance.
3,Please release the bleed valve first after finishing the inflation, and do not start it when there is still air pressure inside your compressor.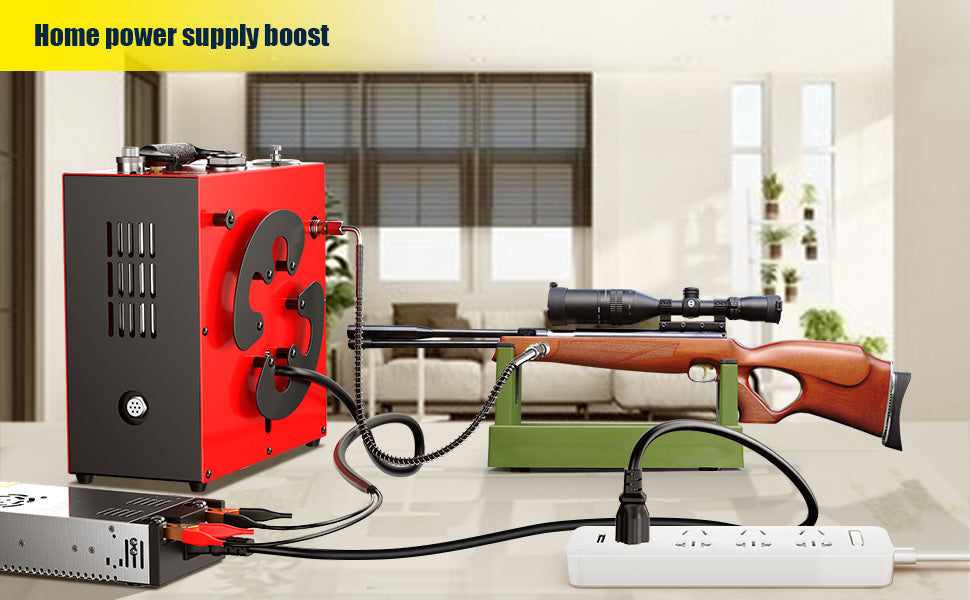 Reviews
Happy with my GX CS4 Pump
My friend recently got me involved with PCP air rifles. He has a big SCUBA tank so I took a chance on this little compressor. I am happy that I did. I took video and documented my first experience with this little beast. I will upload to youtube soon. I followed the instructions to a "T" and used engine coolant not water for the cooling. It ran smoothly and QUIETLY (we could easily have a conversation standing next to it) I tested on a rifle first and that was effortless. Then the SCUBA tank to 300 bar. From a half fill on a 6.9L tank took 52 min to fill. The AUTO-Stop worked at exactly at the pre-set shut off mark. Maybe sounds like a long time but he said it was great. It runs off the truck or the wall outlet which is what I used to test. In the field the truck will be used. I feel perfectly safe with this compressor and am very pleased to own it. I dont have to wait for anyone else to fill my rifles or a tank. I will update on LONGEVITY in my youtube but I think it should be fine. It was operated continuously with no heat issues, outside on a 44 deg F day. When the price drops a little I will get another as a spare. I can see owning a tank now that I can fill it any time I want which is unlike my friend.
Unbelievable for the price!
This compressor has features that are only found on compressors going to 3-4 times more! It's compact, fairly light weight and really pretty fast for what it is! Being able to fill to 400 AR/5800 PSI without getting hot after running for several minutes is really nice. The 4 stage compression cycle increases pressure almost 10 BAR per stroke when running a pressure test, that is really phenomenal! The on-board coolant system and low operating RPMs keep component cool and heat is the biggest enemy of these small compressors!
I have owned many compressors over the past couple years, and most just don't last. This one seems to be built much better than most and I feel it will last a good long while! I would definately recommend the GX CS4 for anyone needing a small compressor that is capable of filling large tank or air rifle that require a higherthan 250 BAR fill capacity!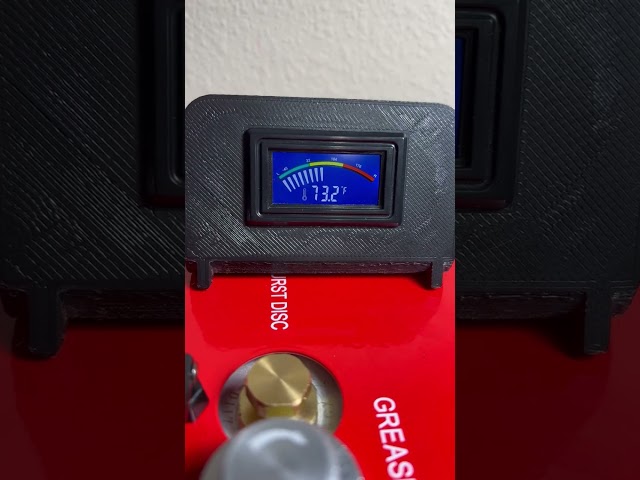 Pleasant surprise
When I use this pump for my larger tank to fill up to 300 bars, I was very surprised how quiet and quick it did it's job. Compare to my other pumps (3), it effortlessly pump without any problems. Amazing pump for the money. Highly recommend it.
PCP fill tank compressor
I had purchased a smaller compressor to fill up my 3 pcp air rifles . I realized within a day or 2 that I was going to need a larger fill tank and a larger compress to fill it . After purchasing a 2L and 9 L fill tank I called around to see who could fill up my tanks to the necessary 4500 psi or 300 BAR tank pressure . I realized within 2 -3 phone calls that I needed my own compressor . I hopped on Amazon and started researching any compressor that had the ability to fill up the tank size I needed , I was ready to spend up to $2,500.00 . I found 3 different units that would have worked but they would not ship to my address I don't know why , however I'm very happy they wouldn't ! I found the GX PUMPCS4 for almost a 1/4 of the price I was going to pay and the unit works fantastic . It fills up my 2L tank from 150 BAR - 300BAR IN NO TIME AT ALL AND ITS VERY QUIET . It filled up my 9 L Tank in @ 3.5 hrs . It's light and small easy to store !! I couldn't be happier!
This is a great compressor for PCP airgun owners!
I've been using the CS4 for two weeks now and really like it. The longer run time, faster fill rate, detachable air hose, liquid cooling and the ability to add grease every 4-6 hours are all cool features. I read their instructions, flushed the cooling system and then filled it with a 70/30 Zerex G48/distilled water antifreeze mix to limit corrosion and lubricate the pump. You can use distilled water if you so prefer.
I tested the unit start with just the air hose, then the air hose and the filter. I pressurized a 6.8 liter tank to 257 bar in 3 hours and 22 minutes straight and the exhaust temperature never went over 101F. The reason for the odd pressure is that the compressor's limit switches / stop switches actually stop short of the pressure you set. That's no big deal because once I realized it, I adjusted the stop switch and topped it off the rest of the way to 300 bar.
Since the initial fill I've topped that 6.8L tank again as well as my 1.5 liter carbon fiber tank. The CS4 is working great.
GX CS4 Portable PCP Air Compressor, Max 5800Psi/40Mpa, 12V Auto Stop PCP Air Rifle Paintball Air Compressor.