GX PUMP CS1-I with Built-in Power Apdater,Auto Stop, PCP Compressor Pump for Air Gun and Paintball/Scuba Tank
Only Available in USA now ✔【Built-in Power Transformer】GX-E-CS1-I pcp air compressor can be powered by 12V car battery, easy to carry when you go out. Also you can use 110v and...
Order in the next
[totalHours] hours %M minutes
to get it between and
Description
Only Available in USA now
✔【Built-in Power Transformer】GX-E-CS1-I pcp air compressor can be powered by 12V car battery, easy to carry when you go out. Also you can use 110v and 220v wall sockets to power the compressor at home. The power adapter is built into the air compressor for easy portability and usage,there is no need to carry an extra power adapter when you go out.NOTE:The temperature should not exceed 75°,and turn off in time to cool down.
✔【Auto-stop at Set Pressure Level】Our electric pcp air pump will automatically shut off when it reaches your preset pressure. After 30 minutes of continuous operation, the automatic shutdown function will also be triggered, which is a good safety feature that you will like. No distraction when inflating,totally free your hand.
✔【Fan Cooling & Real-time temperature Display】Oil-free operation and no need cooling water circulation. This paintball air compressor built-in 12500rpm cooling fan start running when power on the air compressor, no need to turn it on manually. Real-time temperature display makes your air pumping safer and easier.No more bottle fill charges and driving to dive shop!
✔【Quick Connector & Replaceable Filter Element】Comes with an 8mm quick female connector, just hook up and start pumping.This pcp air rifle compressor also packed with extras like spare o-rings and some moisture filter elements. The activated carbon moisture filter on the hose not only can be used multiple times, but also replaceable to keep the compressed air clean and dry all the time.
✔【Fast Inflating Speed & Wide Application】Powered by 250W brushless motor, our scuba tank compressor is capable of delivering pressure up to 4500Psi/30Mpa. Suitable for PCP air rifles, air pistols, paintball guns, and HPA tanks. It takes about 20 minutes for the compressor to fill a 0.5L tank from 0 to 300bars and 8 minutes from 200bars to 300bars. 1 Year warranty against manufacture defects!


Product Description
Specifcations
Model: GX-E-CS1-I

Power: 250W

Working voltage: AC 220V or 110V or DC 12V-15V

Maximum current:25A

Motor speed: 2700r/min

Weight: 17.6LBS/8KGS

Size: 8.9 in x 10.5 in x 6.1 in

Working volume: 78db

Maximum working pressure: 320bars

Air output: 9 liters/min =9.5Qt/min

Inflating speed: (For 0.53Qt / 0.5 liter container)

7-8 minutes from 200 bars to 300 bars;

20-22 minutes from 0 bars to 300 bars /4500Psi/

30Mpa
NOTE: The temperature should not exceed 75°, and turn off in time to cool down.
 




8MM Quick Connector

Built-in DC AC Power Converter

Oil & Water-Free, Fan Cooling

1. Both ends of the hose are 8mm Quick female connectors, which can be directly connected to the male nozzle of most PCP air guns and paintball cylinders or Mini Scuba Tank.

1.Outdoors, you can use 12v car battery to power the pcp compressor (Note:keep the car running when the compressor is working).

Different from traditional,110V electric paintball air compressor which needs the standard oil and cooling water when working, the GX-E-CS1-I scuba tank compressor does not either need oil, or complicate w

ater cooling system.

In addition, the oil-water separator can efficiently filter the oil-water in the air and fill it with clean and dry high-pressure air.

You can also power the high pressure air compressor with a 110 & 220 V household socket at home.




Dual AC Voltage: 110V/ 220V

Auto-stop at Preset Pressure

Temperature Display

Run on both 110v and 220v home power, meet your needs in different scenarios. Please choose the corresponding home voltage before plug in.

The dial can be set to a predetermined stop at whatever pressure setting you preferred. Automatically stop filling when the preset air pressure is reached.

This 4500 psi air compressor will automatically stop filling in the following situation: 1.Air pressure reaches the set value. 2.Continuously inflate for 25 minutes. 3.The temperature gets 8

5 ℃.

NOTE: The temperature should not exceed 75°, and turn off in time to cool down.

 


Packing lists

1 x PCP Air Compressor

1 x Home Power Line

1 x Battery clamp wires

1 x Air Outlet Hose

1 x Pneumatic tire adapter

2 x O-rings

3 x Filter element

1 x User Manual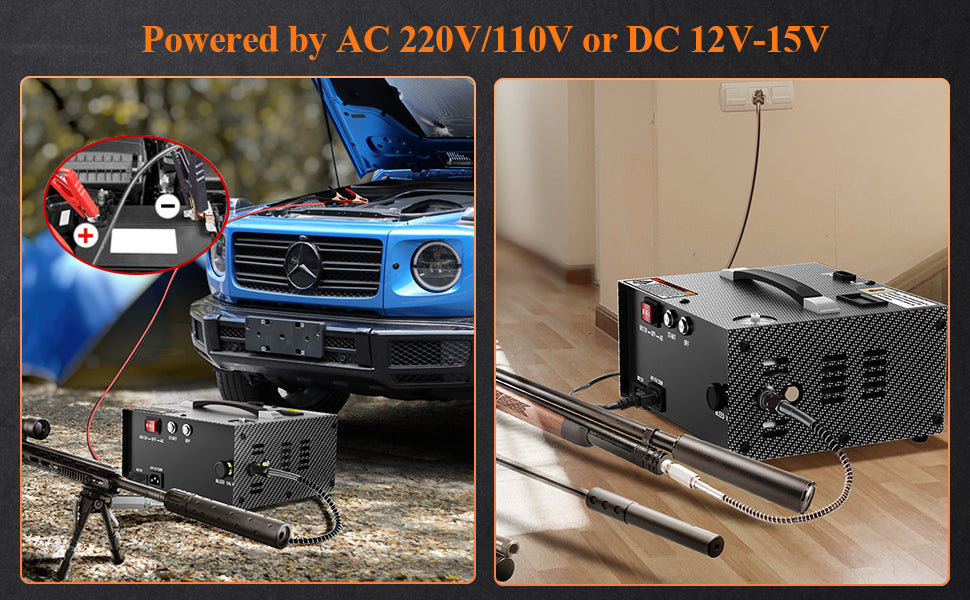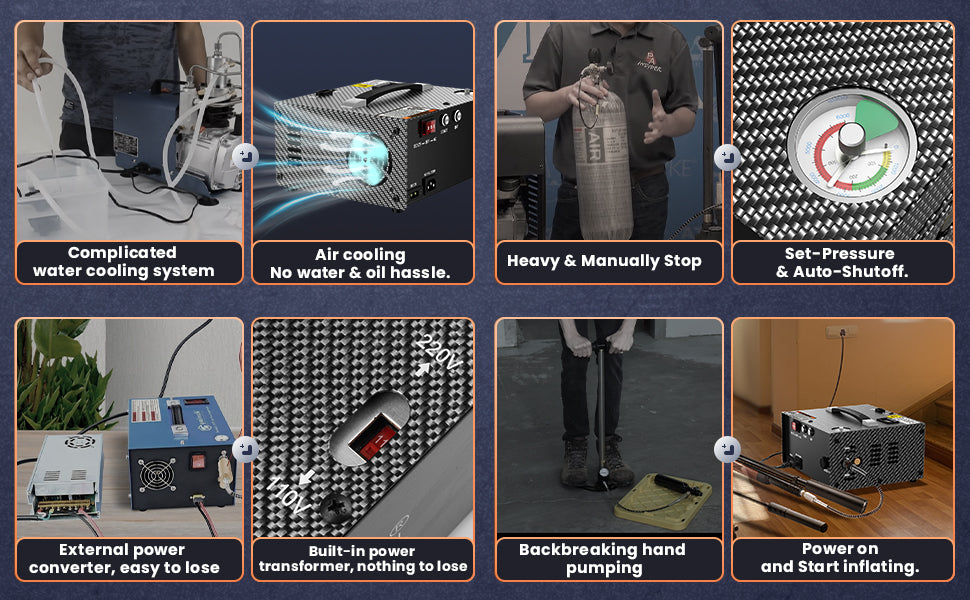 Reviews
My new compressor
Is easy to use very compact , not noise it is silence automatic stop I am very hapy
Excellent investment I recommend 100/100
GX Pump CS1
Very please so far, only used once but I filled 3 air rifles to 3000 PSI with no issues. It was faster than expected and ran cool the entire time.
If it lasts, I will be a happy plinker!
nice little unit!
I have used it to fill my M rod 4 times now. so far I have no complaints and I am very happy with the unit. Thank you GX Pumps
so much easier than a hand pump. Now I can also fill my reserve SCUBA tanks at home!
I got this primarily to replace a 4-stage hand pump that I used for filling up s PCP air gun. The hand pump worked just fine, but it was quite a bit of work and I wouldn't want to try and use it to fill a larger air rifle.
This was so easy to use and it's well thought out with the various valves for releasing the built-up pressure in the lines and stuff as well as the on-board cooling fan to keep the unit from overheating. Speaking of the fan, this is pretty noisy when it's running so I usually set it up in the garage. Given that it's so much faster than a hand pump, I have also used it to fill up my reserve/emergency SCUBA tank. Just a quick note: for filling up something that I intend on breathing, I run it though this filter (https://smile.amazon.com/gp/product/B097QVQ2XC) so that I'm not inhaling any sort of leftover aerosolized oil or pump particulates.
Works
Very happy so far. Pumps my rifle quickly. (I'M NO EXPERT. BY ANY MEANS. in PCP AIR GUNS) How ever. I am an expert in cylinders and high pressure gas. Just filled a Scott 35 min air pack. Took a 3 times because I didn't want to over tax this small pump but worked fantastic. Very happy with this pump. I did do a 40 minute break in period with no load. The instructions are very vague. So thought this was prudent. I'm new to PCP's so again no expert but so far so good. Will report any problems.
GX PUMP CS1-I with Built-in Power Apdater,Auto Stop, PCP Compressor Pump for Air Gun and Paintball/Scuba Tank